For a great recent 3 page article on the show in Sports Collectors Digest, please scroll down towards the bottom.......Just right click on your mouse on this free admission pass then hit print to get a free admission pass to the show -- limited time offer
BUY-SELL-TRADE Cards & Collectibles of all sports, old & new cards, graded cards, sets, wax boxes, game-used cards, autographs, McFarlanes, card supplies at GREAT PRICES. The show is at an air conditioned facility with an ATM at the hotel front desk. There's also a reference table of all the latest hobby price guides A professionally run card show here since 1991
DIRECTIONS: From I-95: Exit 7A in Massachusetts (Rt. 140 S.) then right onto Forbes Blvd.
From I-495: Exit 12 (Rt. 140 N.) for 2 miles then left onto Forbes Blvd.
From Rt.106: North onto Rt.140 then left onto Forbes Blvd.
Once on Forbes Blvd.: Continue straight (road changes to Cabot Blvd.). The Mansfield Holiday Inn is at the end.
For additional directions, go to www.mapquest.com.
The show has raised thousands of dollars
for local charities as we've had at least one charity event/signing here each year since 1997. $795.00 was donated to charity thanks to Luis Tiant's appearance here in June 2016 & $430 was donated to charity thanks to his appearance in October last year.

$600.00 was donated by former Patriot Sammy Morris to Attleboro High School football in conjunction with his appearance at the March show here last year.

$575.00 was donated to the Mansfield Relay for Life thanks to Rico Petrocelli's appearance here in July 2017. $302.00 was donated to the Massachusetts Speech Apraxia Walk thanks to Frank Malzone's appearance here in the summer of 2016 before sadly passing away a few months later. It was one of 3 charity appearances here by Mr. Malzone. Also, special thank to Bernie Carbo for multiple charity appearances here.
Here are a couple links about the card show: nice article on this card show in the Boston Globe You Tube Videos of the Card Show another nice article on the card show
VENDORS EXPECTED TO SET-UP INCLUDE
Marc Aaron

Eric Akesson
Ron of Bleachers Sports Cards
Barry Burden
Tony Cataldi
Phil Casinetti of SportsWorld
John Celona of Champion Sports Cards
Nate Charette
Mike Christian
Debra DeMarco
Steve DiRaffaele
Bill Ellis
Paul Frenette
Joe Garritty
Ed Guay
Gavin Guershuny
Larry Hudson
Paul Kane
Jeff Khoshateseh
Steve Leonardi
John Maher
Dave Medeiros
Jack Melchert
Larry Mishou
Bob Miller

Nick Outchunis
Jim Piccuito
Kevin Randall
Rick Potter
Rafael Rodriquez
Steve Rosenblum
Armand Surabian
Andrew Schultz
Joe Silva
Mike+Dan Souto
Tod Sweetland
Mike Walsh (holidays)
Connie Waskiewicz
Bruce Weeks
Two of the show's vendors are big buyers of collections. That's John Celona of Champions Sports Cards & Collectibles on the left. You can be reached at 781-812-3699. Steve Rosenblum's on the right. His phone number's in the picture & his email is cardscash@yahoo.com)
Become a fan of the show on Facebook (Some great photos of the show & autograph guests on the Facebook Fan Page)
The history of the card show & of me..............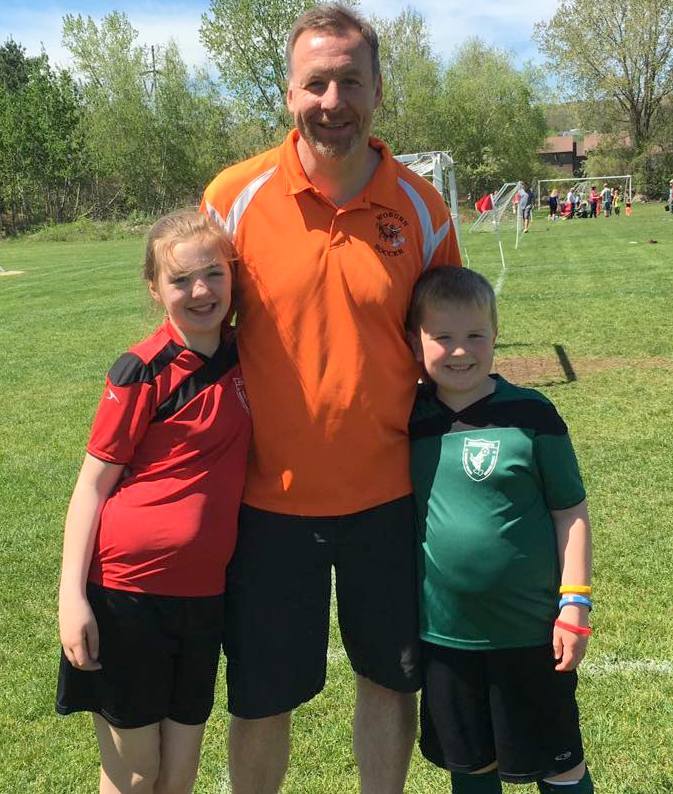 Like a lot of people I started collecting sports memorabilia/cards as a kid going on to sell some just to buy more. I've run card shows at several different locations in the past, but the Holiday Inn in Mansfield certainly has proved to be the best. I started this card show when I was 18 years old on Presidents Day in 1991. It was certainly a different hobby, a different world and a different me. There was no internet for starters. Larry Bird was still playing for the Celtics. And the Patriots had just finished up their worst season ever with a record of 1-15. The card show started out small both in size (about 38 vendor tables) & frequency (about 7 a year) gradually increasing in size over the years with 17 shows a year of at least 75 vendor tables. In 2003, we started having autograph guests on a regular basis, and now have nearly 70 autograph guests each year. Married now with 2 young kids, I do life insurance during the day & play & coach soccer. Iíve met a lot of nice collectors as well as a lot of nice autograph guests over the years, made some good friends and, while itís never been a full-time job for me, itís been awesome having a job I really enjoy. Special thanks to Jack Melchert (the autograph ticket guy), Ernie Rotman at the admissions table and Chris & Bev Walz for their expertise in handling the autograph guests.